This is the page where Virginie shares her favourite artists, the ones you don't hear on mainstream TV and radio. Check out the videos at the bottom of the page.
I have been thinking of writing this for a while now… He is a Twitter friend of mine, man of many talents who lives (relatively) close by, has a wicked sense of humour and writes superb songs. His name is James B aka James Bacon. I heard Shining On (on YouTube) and was converted (yes, me a vegetarian) to Bacon. At least musically speaking. He records and produces his music at his home studio. I must say the vocal sound production was unexpected after the guitar intro on Shining On, and the track reminded me of the psychedelic era of the Beatles with a bit of Jimi Hendrix thrown in. Cool stuff. So this album which I have now bought is called: Living The Dream and I strongly recommend it. It is refined and clever (this guy uses real chord progressions, which I like) and his music certainly takes you to a different place. It has blues, rock, pop and psychedelia… All good values!
You can buy it here: 
https://www.jamesbtunes.com/
Madison Mueller is only 17 and her maturity as a singer/songwriter is amazing. She is from Canada, the country of origin of many people I admire, and yes, I will mention Joni Mitchell. I discovered Maddie precisely because of her version of 'Both Sides, Now'  (I'm a Joni fan, me) and loved it so it led me to listen more and I found a gem: 'Breath of Air' and another one: 'Who Am I?' and well thought I should definitely feature her as one of my new favourites…See the video below and visit her
website!
Apparently Maddie gigs around southern Ontario, check her out if you are in that area. 
Follow her on Twitter etc. etc.
MAY 4TH: RELEASE OF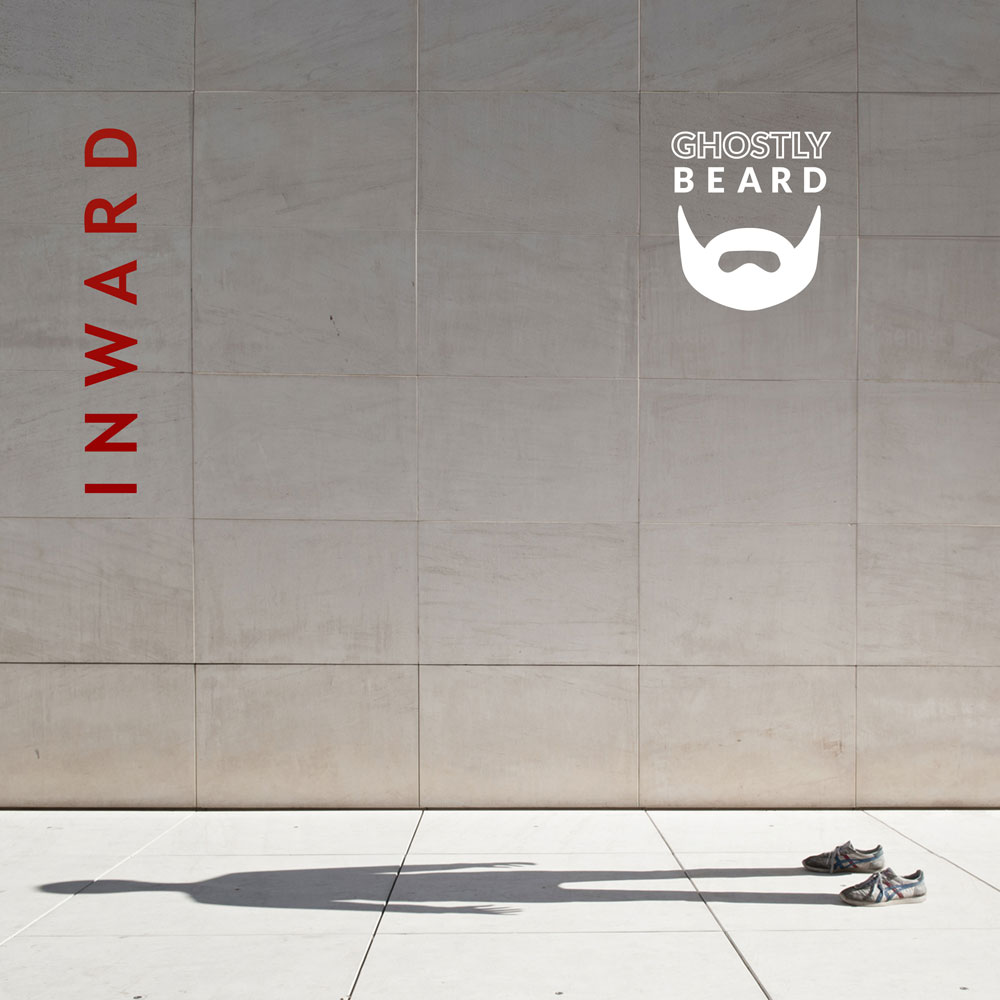 Ghostly Beard  is an enigmatic character who chooses not to show his face so all you will ever see of him is this logo. However, although you may never see his face, you can know his name: Patrick Talbot. He is a wonderful musician, writes beautiful songs and puts together stylish arrangements, complete with guitar solos to die for,  hot licks (and rhetoric). He experiments in different genres and plays all the instruments on his recordings. Amazing. I understand all his music is recorded and mixed at his home studio. His  EP entitled Infinite – 4 songs and one instrumental – is extremely catchy and addictive. If I am not listening to it, I am replaying it in my head, yes, it's that good. I was fortunate and privileged enough to have a preview of the new album, one beautiful piece of Art. Now is time to discover some of the tracks from this new album  here.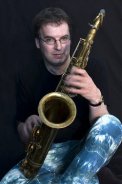 Theo Travis is a renowned Jazz artist with a discography too long for this page. He plays with the greats and is also himself a great, if you see what I'm saying not so eloquently. He has just released a beautiful Album 'Open Air' which I strongly recommend along with the beautiful Theo Travis Double Talk 'Transgression', released in 2015. In fact I would recommend all his albums including all the collaboration albums with Robert Fripp for example. Theo was a member of Gong from 1999 to 2009 and in 2015 he joined David Gilmour's band for the 'Rattle that Lock' tour. Theo has also performed and recorded with David Sylvian, Bill Nelson, The Tangent, Roger Eno, Keith Tippett, Harold Budd, John Foxx, Steve Hillage, John Etheridge, Cipher and Mick Karn. Check out his biography here:  Theo's Biography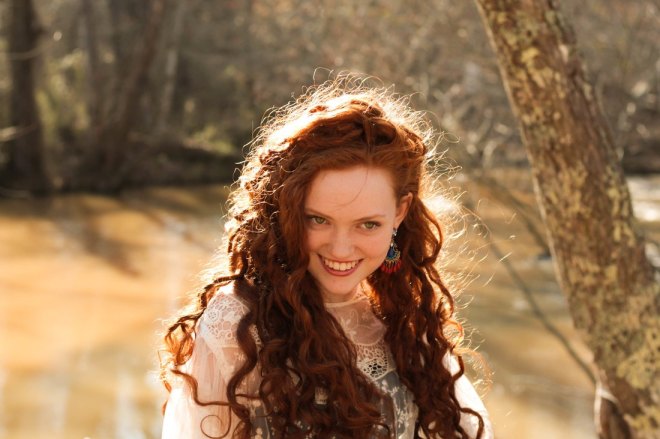 Jayna is a true musical artist, not just a fabulous singer, she also plays guitar, piano, mandolin, autoharp, and bass. Songwriting is her main passion and she already has an original repertoire of over 50 thought provoking songs.
I have bought, listened and really enjoyed her new album, Courtyards and Aviaries. Jayna has her own style and a strong musical identity. Her album features Matthew Mundy of Aquarium Rescue Unit, George Sandler of Brother Pudge and Dream Police, Mark Mundy of Across the Wide, and Don McCook of Squinting Patrick. Jayna's Courtyards and Aviaries is said to 'please even the most critical listener'… Well I couldn't agree more because I'm one them! 
 And to top it all Jayna has chosen the beautiful Château de Chambord to illustrate her website page for Courtyards and Aviaries! How lovely is that?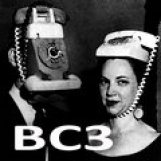 This band sounds both classy and almost psychedelic, strangely in an English sort of way but they are from Connecticut. I couldn't find much information about them but I really enjoy their tunes and arrangements. Those overlapping harmony vocals are delicious, they have very interesting bass lines and grooves… that is what I call creative music but they call it 'Strange and beautiful pop music'. I have listened to their tracks on Bandcamp, my favourite song on the EP Quasarmoto is Blue Driver, really good stuff!  Band members are: Chris Duers: Guitar, Vocals / Chris Weinland: Drums, Stick, Vocals, Guitar / Erik Haegar: Keyboards / Tony Castellano: Bass / Dave Shuman: Bass / Mike Ryan: Winds… Hold on a minute…how many musicians does it take to make a trio? I look forward to finding out more about them. Definitely a band to add to your playlist, record collection, or whatever it is you think cool or fit.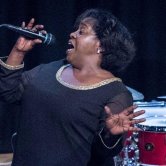 When it comes to Jazz, Aydenne Simone is the REAL THING. I came across her on Social Media, but I could easily have met her in a London Jazz venue where she seems to perform regularly. Aydenne Simone has the voice and the stage presence of a classic Jazz singer and is it is lovely to see that such performers still exist, '4 octaves of Relaxed Classical Jazz'. She has the power and the subtlety, the timing and the fluency in phrasing that you only find in a true Jazz artist. She also sings the blues, my oh my does she sing the blues! (click on that YouTube video I included on the page and you'll see what I mean).
I strongly recommend her recently released album 'Blue Skies'. This album features:  Liam Stevens – Piano,  Joe Dessauer – Drums, Ashley de Neef – Bass, Tom Dring – Bass on 'Witchcraft'. This classy album is packed with energy and great versions of lovely Jazz Standards from Hymn to Freedom to My Funny Valentine via a version of Summertime with a twist, an unusual feel for that song which gives it a new lease of life. Find out more about this album (and other albums) on her website (Click on the album cover below). I love it, I love Jazz, I love Aydenne Simone!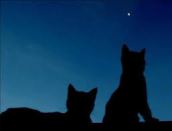 I would describe this duo as Contemporary Troubadours, is that a genre? Members: Asa Galeozzie – Drums, Guitar, BVs, Melodica, Bass and Lee Pugh- Guitar, Vocals, Bass, BVs. However the album I have bought, 
Echoes Across the Cruel Sea
features John "Rabbit" Bundrick on Piano,  Hammond Organ, keyboards and synths (yes that's John "Rabbit" Bundrick who played with Pete Townshend, The Who, Free, to name but a few and his discography is too long for my paragraph). There is also a guest banjo player, Patrick McDermott on
Perfect World
. Behind its classic guitar-driven vibe, this music has more than meets the ear. I am impressed by the beauty of the lyrics, the subtlety of the solos and licks that are almost subliminal and of course sublime, floating in the background like ethereal angels. I love Lee's rich vocal sound coupled with a kind, soulful delivery. My two favourite tracks on the album are
 Fall Back Down
 and 
Feline fine 
I also love the groove on 
Cliff Song
: simply superb. Definitely a band to get to know and an album to add to your collection.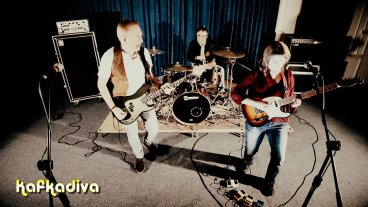 I discovered this trio on Twitter (my friend Ghostly Beard suggested I listen to them) then looked them up on bandcamp. Band members are : Tony Norris on drums, Steve Chilton on bass and Louise Wilson on guitar and vocals. There is this superb album entitled  Big Toes and Fingers : "twelve refreshingly original tracks that mingle edgy, riffy rock with satire and sensitivity". I love the variety of vibes and sounds this trio can get, the lovely songwriting, the superb vocals and the tight energetic performance. Great stuff. Something is telling me the songs are penned by Louise Wilson, but maybe they are a joint effort (I can't tell from the liner notes). Louise fronts like a goddess, I love her engaging delivery, she cracks me up on the track Maybe . She makes me feel all sentimental on Already There. Another collection worth checking out.
This is another mysterious band I met on Twitter. I think I have met Iain Fraser of Captain SIB to be more precise, the other members are Stuart Ireland and Billy Mushet.  Apparently they have been making music for nearly 20 years now (well not that long really). You may never have seen them and there are rumours that they have never gigged. Basically a studio band (who can blame them?). In their own words: 'We have no main style, you should see the wardrobe'. Say no more. 
I have listened to their music on Soundcloud and really enjoyed the variety of what they do. My favourite songs of theirs are Einstein and Punked out. I also like Subconscious Mind  a lot. If you listen to their music you will notice that no two songs are the same, quite remarkable. 
You can also listen to Captain SIB here.


This Alternative-Pop duo are sisters Tonya and KiKi Skinner. I first met Kiki on Twitter and then Tonya introduced herself too! These two are vibrant characters writing and performing infectious hits full of hooks. I am told their dad sounds like Philip Bailey – I'd love to be introduced!  I can hear their inspiration is very much in the 1980s musically (confirmed by what they say: " inspired by: George Michael, Savage Garden, Heart, Prince, U2, Marvin Gaye, WHAM!, The Bee Gees, Bananarama, and the Pet Shop Boys"). They have a fabulous alternative power pop sassy sound. You must listen to their music here and BUY their album …I love Somewhere Somewhere and Anxiety but I am waiting for their album CD in the post… Argh too long to wait.

Igor and the Hippie Land is a Paris-based indie rock band formed in 2010 (although they go back a long way) with Igor Stanislas on vocals, piano, guitars and Emmanuel Mac Manus on guitars and Mandolin (lyrics by Claire Gristwood). Bass: Philippe Henner, Drums: Alain Bidotnaude, Philippe Jeoffroy.
Their previous album Dig for Victory was featured on the Steve Lamacq's show on BBC6.
This band managed to crowdfund successfully their lovely new album, Wonderful Circle.
I like the rock/melodic rock/sometimes pop sometimes prog rock vibes of their music. It's worth more than a listen if you ask me.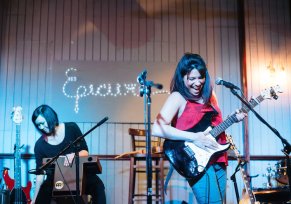 I discovered and met singer-songwriter Belinda M on Twitter, and was instantly charmed by her fabulous, energetic pop songs and warm personality (I also love the way she credits her close ones for her success, SWEET!). I first heard and totally related to her song "I'm Not Broken" which is about 'finding happiness, self-confidence, and peace in the face of adversity'. Belinda has an amazing voice. She is a natural! Apparently she started music at the age of 4 because her parents discovered she was able to play the piano by ear. Now she sings and performs her songs accompanying herself with the guitar. She released a lovely EP in October 2016 which you can stream here or BUY HERE.  
There is a new one to be released very soon, with a portion of the profits to go to charity. So watch out for it. Check out Belinda's website here.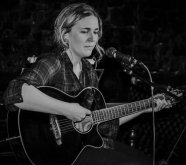 I met this cool artist on Twitter, listened to her music and discovered her properly on The After Eight Show where she was featured alongside other artists on this page. She says she is primarily a guitarist and then a singer (I relate to that). Well she is a songwriter I understand. I must say her singing is fabulous even as a first instrument. I really enjoy her music and will write more about her when I find out more! Listen to her music here… My favourite track is Bad, Bad Things but they're all fab.